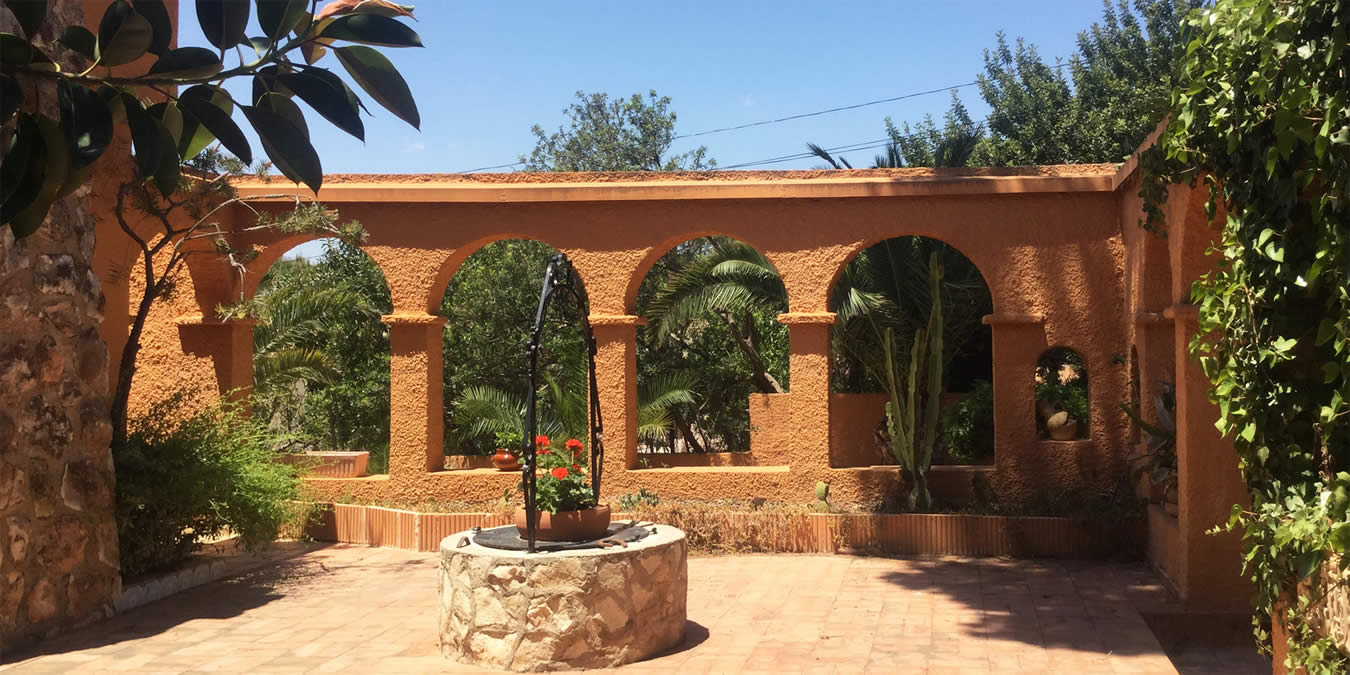 Personal notes from your hostess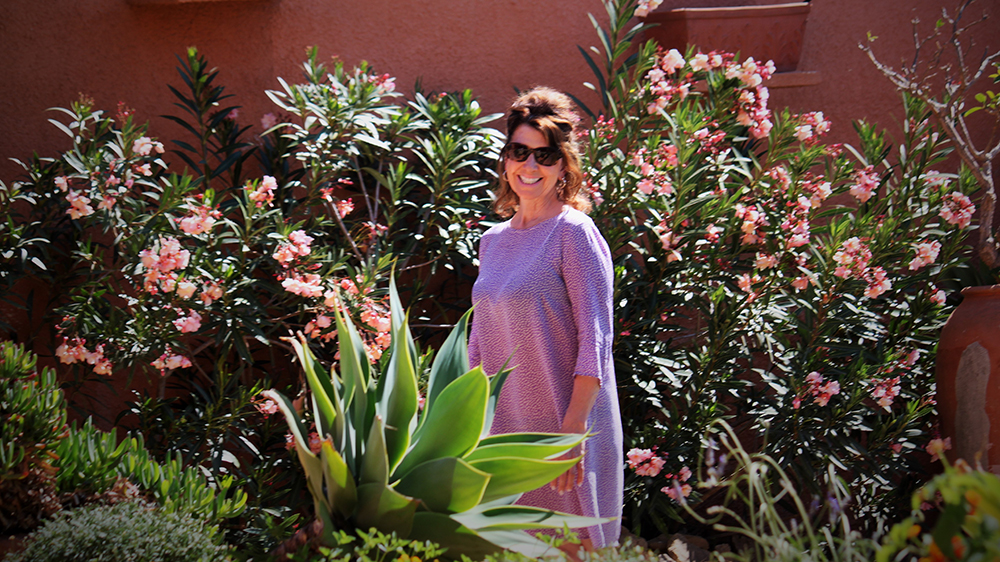 On my very first visit to the Casa Kokopelli, I was enchanted by it. Not a luxury home, but a cosy refuge where I felt instantly at ease. Everything you need to rest and relax is here; a Mediterranean garden with native plants, with trees and flowers, such as jacaranda, Peruvian pepper tree, palms, oleander, bougainvillea, hibiscus, lavender, rosemary, lemons, the old olive tree ….  The property is not overlooked, but feels secure thanks to the three, well-tended Spanish villas that stand nearby, but not too close for comfort. And of course, there's the pool whenever you want it, enough space to play badminton, table tennis, ball games or boules. There's a big veranda, little terraces, a patio with a well and rounded arches, and shady nooks where you can day-dream, laze, relax, read, play chess or cards. And in the evenings, it's fun to sit a while on the roof terrace, sipping a sundowner, gazing contentedly at the scene until the sun sinks into the sea … and then the house itself, it's always inviting, whatever the season – cosy, safe, a place where you feel so at ease.
It was always the same: we travelled from Germany – usually in the car, taking our time and stopping over in France and the Spanish Pyrenees – full of plans for walks along the beach, excursions to Moraira, Altea or the surrounding countryside. Dinner in the marina, or in one of the tapas bars known to insiders. But more often than not, we drove to one of the wonderful supermarkets such as Pepe La Sal, bought food for several days and then never stepped out of the Casa Kokopelli for a week. No matter what month of the year, it was always the same – we simply felt good here and enjoyed the location and the peace: we'd get up late, have breakfast on a secluded patio, read a bit, do some work using the internet connection, swim, play table tennis, or just do nothing at all – it's amazing how often it is so easy to do nothing – then a late, light lunch of healthy food, a laze by the pool, and a nap before it's time to think about the evening. And by then, at the latest, you've got used to Spanish meal times. Taking a sundowner at leisure is so wonderful that you don't even feel hungry until 9 p.m. (well, apart from a couple of tasty tapas). But when you eat, the food should be easy to prepare. In summer we put fish, poultry, lamb or the wonderful, big Iberian T-bone steaks on the Weber grill, season with rosemary, a dash of olive oil and sea salt and have sides of fresh fruit, salads and the amazing range of local vegetables. In winter it's the same, but cooked in the kitchen and served next to the open fire. During and after the meal we listen to music and at some point, fall into our beautiful beds …
I could talk for ages about ways to spend a wonderful time in the Casa Kokopelli. For example, I can suggest a huge number of other super things to do if people don't want to spend every day by the sea on the beautiful beaches and bays of Calpe and Moraira. The countryside is a treasure trove for hikers, explorers and nature buffs; there are hidden ravines, caves with wall paintings from long forgotten ages, valleys and hills; in the spring, the enchanting, undulating expanse of almond blossom, a precursor to the cherry blossom; there are castles, fortresses, monasteries, ruins, abandoned villages that are now being revived by the great-grandchildren of the original farmers, little Spanish villages which have preserved their hospitable attitudes and amazing cuisine … There's no end to it. Driving out in our jeep we even discovered and learned about the "roofs of the world".
If you are curious, I am happy to tell you more!
Hasta Luego! Adios!
Vera Maria Amtenbrink